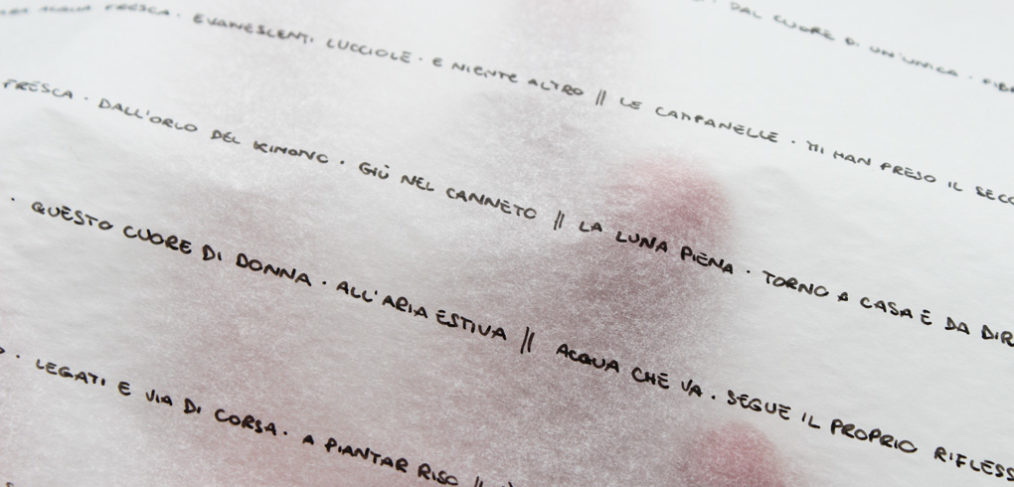 Chiyo-ni : 28 haiku
La mia traduzione metrica italiana di 28 haiku della poetessa giapponese Chiyo-ni (1703-1775), con testo originale a fronte in kanji e romaji. Questi haiku sono stati la base per una serie autobiografica di disegni a matite colorate e inchiostro su carta washi. In questo post un'introduzione (in inglese) a Chiyo-ni e al mio lavoro. Gli haiku sono divisi in 7 cicli di un anno ciascuno in cui ogni anno è composto da 4 haiku, uno per stagione. Ogni ciclo riflette 7 anni della mia vita.
My Italian metrical translation of 28 haiku by Japanese poetess Chiyo-ni (1703-1775), with original text in kanji and romaji. These haiku have been at the base of an autobiographical series of drawings with colour pencils and ink on washi paper. In this post an introduction (in English) to Chiyo-ni and to my work. Haiku are divided in 7 cycles of 1 year, every year being composed of 4 haiku, one per season. Every cycle reflects 7 years of my life.
I (0-7 anni)
campane a sera
pare fermarsi il cielo
fior di ciliegio
cucù piccino
pagina bianca ancora
dolce tristezza
cento germogli
dal cuore di un'unica
fibra di vite
la prima neve
quel che scrivo scompare
scrivo – scompare
iriai wo
sora ni osayuru
sakura kana
hototogisu
mada shirakami no
aware nari
hyakunari ya
tsuru hitosuji no
kokoro yori
hatsu yuki ya
mono kakeba kie
kakeba kie
晩鐘を
空におさゆる
さくらかな
杜鵑
まだ白神の
あわれなり
百生や
つる一すじの
心より
はつ雪や
もの書けば消え
書けば消え
II (8-14 anni)
una farfalla –
che sogni strani fai
muovendo le ali?
chiara acqua fresca
evanescenti lucciole
e niente altro
le campanelle
mi han preso il secchio al pozzo
chiedo acqua altrove
cadere a terra
ridendo di chi cade –
scena di neve
chōchō ya
nani wo yume mite
hane tsukai
seisui suzushi
hotaru no saete
nanimo nashi
asagao ni
tsurube torarete
morai mizu
korobuhito o
waraute korobu
yukimi kana
蝶々や
なにを夢見て
羽つかい
清水すずし
蛍のさえて
なにもなし
朝顔に
釣瓶とられて
貰ひ水
ころぶ人を
笑ふてころぶ
雪見哉
III (15-21 anni)
di chi lo coglie
sua è la fragranza –
fior di susino
soffia aria fresca
dall'orlo del kimono
giù nel canneto
la luna piena –
torno a casa e da dire
non ho più cosa
io come neve –
e al riflesso sull'acqua
guardavo fissa
taoraruru
hito ni kaoru ya
ume no hana
suzushisa ya
susokara mo fuki
yabutatami
meigetsu ni
kaerite hanasu
koto wa nashi
ware yuki wo
mizu ni utsushite
nirami keri
手折らるゝ
人に薫るや
梅の花
しさや
裾からも吹
薮たたみ
名月に
帰て咄す
事はなし
我雪を
水にうつして
にらみけり
IV (22-28 anni)
getta radici
desiderio di donna –
viola di campo
coi panni stendo
questo cuore di donna
all'aria estiva
acqua che va
segue il proprio riflesso
la libellula
in quel che cucio
imbastisco i miei sogni
sera a dicembre
ne wo tsukete
onago no yoku ya
sumire-sō
kaketaranu
onna-gokoro ya
doyōboshi
yuku mizu ni
onoga kage ou
tonbo kana
mono nui ya
yume tatamikomu
shiwasu no yo
根を付けて
女子の欲や
菫草
かけたらぬ
女心や
土用干
行水に
おのが影追う
蜻蛉哉
物ぬひや
夢たゝみこむ
師走の夜
V (29-35 anni)
fiore del mondo
cerchio avviluppato tu
luna nebbiosa
capelli a stento
legati e via di corsa
a piantar riso
è luna piena –
la trattengo negli occhi
lungo il cammino
dormendo sola
fredda notte mi sveglia
piena coscienza
yo no hana wo
marū tsutsumu ya
oboro-zuki
mada kami no
musubanu mo idete
taue kana
meigetsu ya
me ni okinagara
tooi hokô
hitorine no
samete shimoyo wo
satori keri
世の花を
丸うつ々むや
朧月
まだ神の
むすばぬも出て
田植哉
名月や
眼に置ながら
遠歩行
独り寝の
さめて霜夜を
さとりけり
VI (36-42 anni)
una farfalla
su cammino di donna
traccia e futuro
fiore notturno
quando scorgi un instante
pelle di donna
notte di luna
e da una pietra ecco
tu cavalletta
se non si cede
a questa impermanenza –
neve e bambù
chōchō ya
onago no michi no
ushiro ya saki
yûgao ya
onago no hada no
miyuru toki
tsuki no yo ya
ishi ni detenaki
kirigirisu
shinawaneba
naranu ukiyo ya
take no yuki
蝶々や
をなごの道の
跡や先
夕顔や
女子の肌の
見ゆる時
月の夜や
石に出て鳴
きりぎりす
しなわねば
ならぬ浮世や
竹の雪
VII (43-4? anni)
che si aggrovigli
si sgrovigli il salice
lascialo al vento
fiume e nient'altro
oscurità che scorre
queste lucciole…
il crepuscolo
è custodito altrove –
foglie d'acero
fiore di tè
il tramonto ritarda
finché ti schiudi
musubo to
toko to kaze no
yanagi kana
kawa bakari
yami wa nagarete
hotaru kana
yūgure wo
yoso ni azukete
momiji kana
chanohana ya
kono yūgure wo
saki nobashi
結ぶと
解ぶと風の
やなぎかな
川ばかり
闇はながれて
蛍かな
ゆふぐれを
余所に預けて
もみぢ哉
茶のはなや
此夕暮を
咲のばし
Grazie all'altra Roberta, conosciuta per caso a casa di amici, che ha dato la sua benedizione alle mie traduzioni…